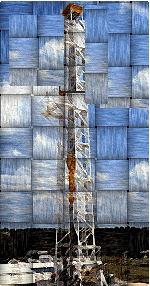 COPYRIGHT
2005-2006

CAMEX
Operating
Company

Kevin R. Campbell
President, Owner: Twenty-six years experience as Petroleum Geologist in South Louisiana. Formerly with Santa Fe Minerals and Borden Energy; graduate of Tulane University, B.S. in geology. Current activities include prospect sales, joint venture proposals, deal screening, geological oversight and support for development of operated properties, and capital investment.
Eric D. Campbell


Secretary/Treasurer, Owner: Twenty years experience managing Camex and family investments. Formerly a commercial loan officer with American Bank and Trust, Lafayette, Louisiana; graduate of the University of Texas, B.B.A. in general business. Oversees all aspects of financial, accounting, reporting, land and legal functions of the corporation and assists in trade negotiations.
Richard A. Campbell
Independent Geologist: Forty-nine years experience as a geologist and independent producer. Formerly with Union Oil Company of California; Independent for the last thirty-four years; graduate of Texas Tech and the University of Texas, B.S. and M.A. in geology. He participates as an industry partner by generating/screening and investing in prospects in close association with Camex. His reputation, experience and knowledge of the industry are valuable assets which he provides to Camex.
Donald H. Oheim


Registered Professional Engineer.
Petroleum Engineer: Fifty years experience as petroleum engineer handling drilling and production activities, and reservoir and economic analysis. Formerly regional engineer for Ashland Exploration; graduate of the University of Texas, B.S. in petroleum engineering. Handles all drilling and production work, from design through installation, including maintenance and daily operations, purchasing, field supervision, and reports; verifies production and processes information for distribution of royalties.
Robert W. Parkhurst
Forty-seven years experience as a geologist in South Louisiana and Southeast Asia. Formerly with Texaco, Union Texas Petroleum, Hilliard Oil & Gas and as an independent geologist. He is experienced in exploration and development geology, prospect generation, evaluation and marketing. Bob is a graduate of the University of Kansas with B.S. and M.S. degrees in Geology. He has been an exclusive consultant to Camex for eight years.
Carolyn D. Porche
Secretary/Assistant Office Manager: Employed with Camex since 1997. Formerly employed as a legal secretary for fourteen years. Handles various general office management tasks including accounting (payable and receivable), joint cost and interest billing, production reports and severance tax reports.
Home
Prospects

Personnel

News